It has been a long time since I immersed myself in the incredible world of Tolkien and I was very much drawn to his latest posthumously released book.
The Fall Of Gondolin attracted me for many reasons. Early reviews made references to the story of Troy and this is a story that has always captured my imagination. But it was the link to Tolkien's own wartime experiences that really captured my attention.
Reading through this book, it is very clear to see where Tolkien's imagination met his own personal experiences as a soldier. The resulting story about the perilous destruction of a magnificent city is one of his darkest and bleakest tales. No doubt, many beautiful towns and villages were destroyed in a similar way during World War One.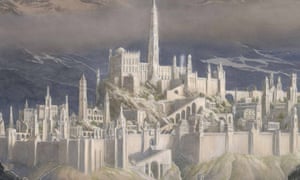 For me, this short story confirms Tolkien as one of the greatest writers of our time. It reassures me that he will still be read hundreds of years later just as the works of Homer and Virgil are still read today. As a student of classical literature, it is delightful to see him being regarded as part of the canon that he so admired.
The Fall Of Gondolin offers something for everyone. If you are a lightweight fan of Tolkien like myself, you can navigate your way through the table of contents and skip straight to the titular tale itself. If you are a superfan, there is plenty of material for you to dissect, digest and discuss.
If you maintain an interest in the craft of writing or journaling, it is very interesting to see how Christopher Tolkien lovingly interprets and presents his fathers notes. What a joy it must be to have such access to the man who told you these amazing stories at bedtime as a kid.
The highlight of the book for me were the all too clear references to real world battlefront experiences. As their fate becomes clear, the people of Gondolin witness the horizon turn a horrifying red as a fiery attack advances and prepares to encircle the city. I would imagine that this is what it was like being close to the battlefront of any war.
When the enemy finally appears, practically indestructible creatures clad in iron and full of foes burst forth onto the scene. Interestingly these fictional creatures echo the first use of army tanks on the international stage during World War One.
As the city falls, there is little glory to be won as the enemy swarms and dismantles the beautiful white walls in a murderous rage. This is the true reality of war as valiant heroes often ultimately face death whilst battling against the odds. Innocents suffer and beauty is burnt when war comes to town. While some of the heroes go down in a blaze of glory, misery and desperation are the overriding emotions as many fall. It is impressive to see Tolkien keep up his story's momentum despite revealing the conclusion in his title.
All of this vivid imagery is once again magnificently reproduced into artwork by the hand of Alan Lee. Not to mention the vast wealth of material inspired and available online. Tolkien's work always seems to create marvellous imagery that artists cannot resist recreating.
Tolkien's tales are storytelling in its purest form. A smart alec on twitter recently described his work as often being built around characters just walking from place to place, but this only makes his literary achievement much more astounding given its ever growing reputation with the passing of time.
I would also agree with the observation that it is a crying shame the so much money is being poured into a Lord Of The Rings TV series when Tolkien has so much new and unexplored material to work with. Hopefully, in the near future someone will be bold enough to take on stories such as this to offer audiences yet another glimpse of Tolkien's incredible world-building imagination.
If you enjoyed reading this book, check out Seamus Heaney's translation of Beowulf. This mythical tale inspired Tolkien along with many others.