'It was the new cop who came to the door, the young fella who'd only been on the job a couple of months. I thought that was a bit rough, sending a boy like him to do a job like that. Later, I found out that he was sent because he'd gone to pieces at the scene. That's what we all call it now: the scene.'
An Isolated Incident begins like many other crime novels with the gruesome discovery of a body. The victim is 25-year-old Bella Michaels and the brutal murder shocks her small town of Strathdee. However, it is clear from the first paragraph that this is a novel that wants to go boldly in a different direction from the norm. In this book, detective work takes a backseat and instead we experience murder through the eyes of those left behind.
The reader gets this worldview through the eyes and opinions of Bella's older sister Chris and also May Norman who is an online news reporter sent to investigate the crime. This interpretation works brilliantly and makes An Isolated Incident a novel to remember or as the Stella Prize judges put it, 'a murder mystery that deftly transforms the genre.' 
Don't even know how I can take this, to be honest. The loss of her is already too much and then there's the other thing – the end of being loved in the way only my sister could love me. What I feel for her survives and that hurts like battery acid every minute, but worse is that what she felt for me died with her. I will never be loved like that again.'
As the story develops, the book prompts the reader to think about society's fascination with the murder of beautiful young women. (At one stage the author even confronts the reader directly for reading the book!) It shamefully points out our endless obsession with the details of the crime and the personal lives of those involved. It highlights our desperate need for closure in the form of justice when for family and friends there never truly is closure. In all the chaos and dark excitement, we often forget the harsh reality that a loved one has been snatched away  and their absence will be forever felt and tainted by the thoughts of their suffering.
"Someone dies of natural causes, everyone's all about respecting privacy. Someone gets murdered and it's considered OK – helpful and responsible even – to delve into every email and text message, to lay out her underwear and porn collection, to note body-hair removal habits, how often the sheets were changed, whether she preferred tampons to pads, condoms to an IUD. And not just the victim, either. The victims current and ex-partners, siblings, parents, kids, workmates, friends. All their nasty habits and dirty secrets are laid out in the name of truth and justice."
This is the chief strength of An Isolated Incident and it is what sets it apart from the competition. While many great novels sweep us away in the exciting investigation process and the trials and tribulation of detective work, Emily Maguire strips away this macabre romanticism of the murder mystery and hits the reader hard with real life realities.
From the moment I picked up An Isolated Incident, I couldn't put it down. I brought it everywhere with me and read it any spare moment that I got. It has been a long while since I have had that unputdownable feeling. In a way this kind of proved the author's point as I wanted closure, I wanted to know more and I couldn't look away from the drama.
Fans of Gillian Flynn's Sharp Objects and Gone Girl take note, this is the book that you need in your life right now. As for me, I am now very determined to read some of Maguire's earlier work. This is an author of notable talent willing to take stories in a new direction and sometimes that can be hard to find.
"People ask if what I've been through has made me afraid and of course it has. But not of monsters. Only of those who insist they exist."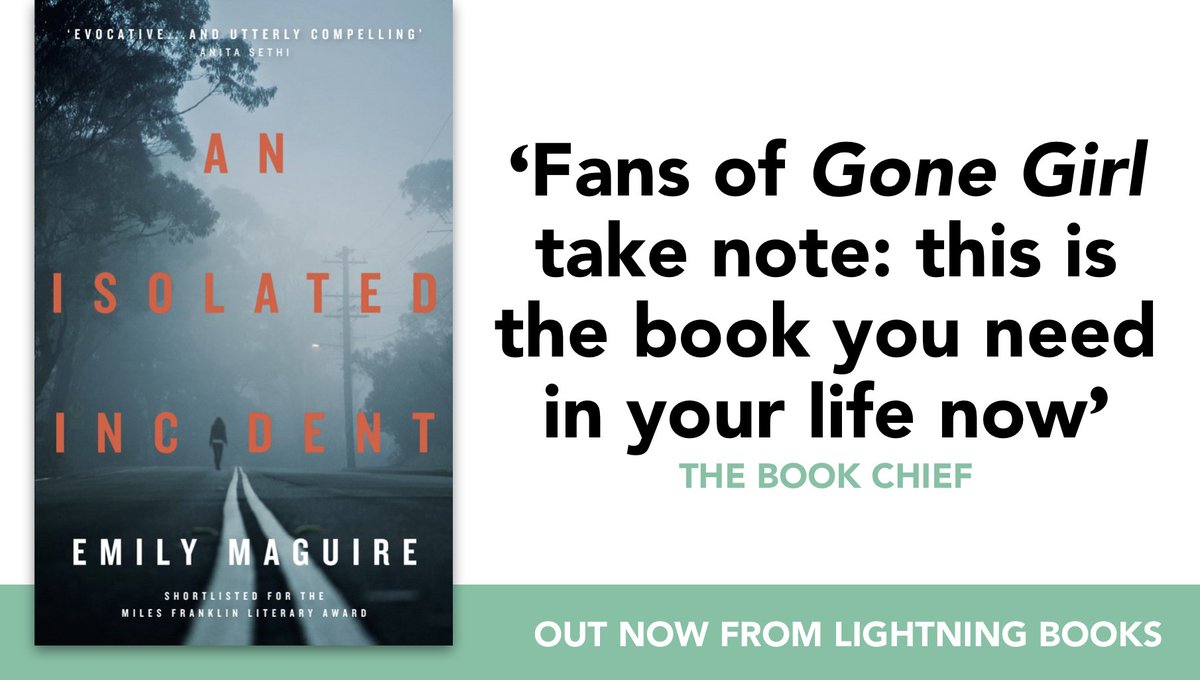 This is a novel that comes from independent publishers Eye & Lightning Press, so you might have to work a little bit harder to get a copy. The book is available on all major online retailers, to buy the book for Kindle click here or to buy direct from the publisher you can visit their website where An Isolated Incident is currently their Book Of The Month.
Afterthoughts
Critics love this book also. In Australia it was shortlisted for the Miles Franklin Literary Award, the Stella Prize and the Ned Kelly Prize for Best Crime Novel!
I don't normally read crime fiction. It's not because I don't like it, I love a good story no matter what the genre is. It's because I have an addictive personality and many crime fiction books come in series. If I read one Jack Reacher novel, I'd have to read all 29 of them and I can't handle that amount of volume being added to my TBR list!
For the record, Jo Nesbo's Detective Harry Hole series and Arnaldur Indridason's Inspector Erlendur series are my two favourites. Nesbo writes gripping tales that motor along nicely while Indridason's novels are incredibly bleak but engaging to read.
The final quote of this book regarding monsters is incredibly powerful and reminded me of this short poem by Nikita Gill.