'As far as I'm concerned, you can't beat a good whodunnit; the twists and turns, the clues and the red herrings and then, finally, the satisfaction of having everything explained to you in a way that makes you kick yourself because you hadn't seen it from the start.

That was what I was expecting when I began. But Magpie Murders wasn't like that. It wasn't like that at all.

I hope I don't need to spell it out any more. Unlike me, you have been warned.'
Magpie Murders is the new novel from the extremely busy Anthony Horowitz. When he's not reviving Ian Fleming's James Bond franchise or dabbling with the adventures of Sherlock Holmes, Horowitz writes for television and young adult readers. He is someone that I have admired from afar for a long time and so I was delighted to finally get around to reading one of his books.
After finishing Magpie Murders, I can only marvel at the impressive level of depth that Horowitz brought to the story. This book is essentially a book within a book or a whodunnit within a whodunnit. It begins with an account by an editor describing how Magpie Murders changed the direction of her life.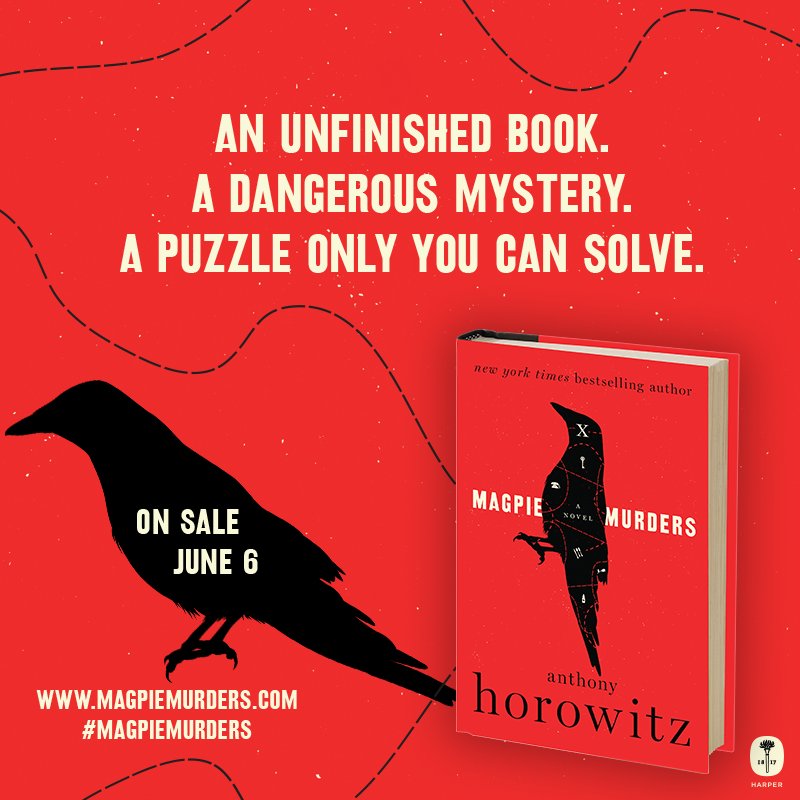 Within the structure of Horowitz' novel, Magpie Murders is the work of fictitious author Alan Conway. The manuscript for this book arrives the day after the author apparently commits suicide. Alan Conway is famous for his Atticus Pund detictive series and with the future of the publishing company depending on its latest instalment, it is distressing to find that the closing chapters have gone missing.
The incomplete manuscript takes us inside the world of Saxby-on-Avon. A stereotypical English village complete with vicarage, pub, neat gardens and Georgian manor. This idyllic countryside community is rocked by the death of Mary Blakinson, the local busybody. Atticus Pund and his 'remarkably unobservant' sidekick James Fraser are summoned to the village by Mary's future daughter-in-law to investigate the incident.
'Could it really be true that one of the villagers, living in a Georgian house perhaps, going to church and playing for the local cricket team, mowing their lawn on Sunday mornings and selling home-made marmalade at the village fete was a homicidal maniac?'
In Magpie Murders, the traditional murder mystery formula works on two levels. On one hand, the editor is trying to find out who killed Mary Blakinson in the manuscript. On the other, she is making an amateur attempt at investigate the death of the author Alan Conway. In both cases, nearly everybody is a suspect and everyone has a credible motive. As she delves further into the mystery it soon becomes clear that both murders are intricately linked together.
'Life may imitate art – but i usually falls short of it.'
True to the genre's form, Horowitz brilliantly keeps us guessing right up to the end and reveals all the answers with an expert hand. What really makes this novel a memorable read though are the hidden revelations of the publishing industry. The struggle to get published, the ensuing restrictions and commitments when you make it, Horowitz hints at all of these in a tongue-in-cheek manner that will make you think differently about the literary world. Horowitz is an author that I look forward to revisiting again.
Would I recommend this book to a friend?
This book is the ideal summer read. It engages the reader on many levels and involves you in not one but two excellent murder mysteries. The book also hints at further mystery through illusions such as word puzzles, cryptic references to the publishing industry and much more. This is a book that you will enjoy and think about after for a long time.
'I'm not sure it actually matters what we read. Our lives continue along the straight lines that have been set out for us. Fiction merely allows us a glimpse of the alternative. Maybe that's one of the reasons we enjoy it.
To get a copy of Anthony Horowitz' Magpie Murders for only €8.82 including free delivery, click here.
Afterthoughts
Magpie Murders is essentially a homage to the classic English murder mystery tales. Throughout the novel, Horowitz namechecks world famous authors and their detectives to highlight the general public's obsession with murder. One character remarks that 'British TV would disappear into a dot on the screen without murder. They're even bumping people off in the soap operas.' As you read through this book yourself, once cannot deny that there is something strangely comforting and familiar about it despite all the murder!
As a book featuring a book-within-a-book, Magpie Murders can be classed as a matryoshka story. This reminded me of Philip K. Dick's The Man In The High Castle. By chance, I also received an email about these types of story today. Check out a list of further examples here.