'Haulbowline Lighthouse stands off shore. Waves crash at it from all sides. I think of it as the beginning because the lighthouse – smooth stone, seamless from a distance – is a fine spool from which to unwind the border. I imagine the line as three hundred miles of oily black cable, wrapped around the lighthouse, waiting to be drawn out.'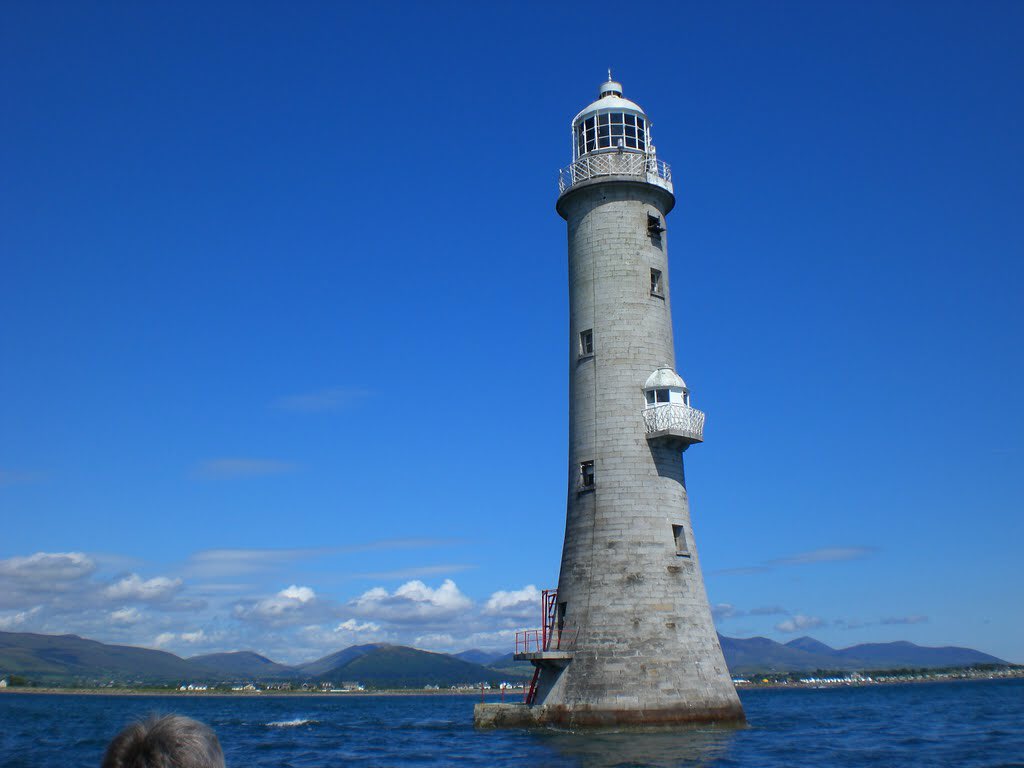 Books like these are fast becoming one of my favourite genres. They seem to strongly resonate with me and my natural sense of curiosity. The sense of freedom, the interest in new people and places and the disconnect from 'normal' life makes for very interesting reading. Reading books like these are pure escapism and the next best thing to doing the actual travelling yourself.
That is not to say that all travel books are the same. What sets The Rule Of The Land apart is the beautiful poetic language used throughout. Garrett Carr has written something very special here in a time when, more and more, we are beginning to define ourselves by our borders. Written in the aftermath of Brexit, the author walks the border between Northern Ireland and the Republic Of Ireland. Sometimes, he even calls upon the use of a canoe to navigate the many waterways that make up part of this border. Over the course of this journey, Carr has much to teach us.
'I want to see how the land and its people have reacted to the border, and the ways in which the line is made manifest. First it just demarcated counties, then countries and may next be where the United Kingdom and the European Union touch – this line has a lot of responsibilities.'
The beauty of this book is that the author could be writing about any type of border. He spends much time musing about the imaginary divides that have always seemed to be there, even before maps and written records. These divides are not there just because of geographical circumstance. Religion, politics, tribal and familial factors have all played a role in shaping the territories that make up our world today. Carr expertly navigates through all this information to paint a lyrical picture of what makes the Irish border in particular a special place.
To the author's credit, The Rule Of The Land offers a wide and varying opinion on how this unusual boundary came to be. Importantly, this opinion transcends the usual lazy political and religious stereotypes. When you scratch beneath the surface as Garrett Carr did, it quickly becomes clear that the border seems to have always been in existence in some form or other.
'South are the Cooleys. North, the Mountains of Mourne sweep down to the sea. The Cooleys are ruffled and pitted, the Mournes taller and polished smooth by glaciers. Mountain ranges of differing personalities and this wide band of water between; I sense the edge of kingdoms.'
The making of the border easily outdates its political creation in the 1920s. It seems as if the universe itself conspired to create an unbreakable territorial line. Ice age glaciers carved out immense troughs in the land and deposited countless drumlins 'like a necklace of beads.' Relics from the past such as Emain Macha, the Greenan fort and countless Stone Age burial sites point to the presence of human life thousands of years ago. Irish folklore and legends record the deeds of the great Irish hero Cú Chulainn and the indomitable O'Neill clan who defended this same border. Much later came The Big Houses that announced the arrival of a landlord class and territory of a different kind. There is also Lough Derg, which remains to be an important site of pilgrimage today.
Then there are the people who make up the border. These are as vital to its story and understanding too. Famous cases studies include Shane Leslie, Lord Brackenbridge, Barry McGuigan, Seán Quinn and Artur Kozlowski. Authors William Trevor and Brian McGilloway and their works offer the reader a chance to read and understand the land further. But it is the nameless farmers and chance encounters that really steal the show throughout this book. These 'borderlanders' give Carr's account a real flavour of what it is like to live in a area that holds so much historical and cultural baggage.
'Drawing a line is one way to make a state where we can belong, but a sense of belonging is often lost to borders too. Even a place as small as Free Derry would be big enough for some people to feel like they were in the wrong place. Within Free Derry I'm sure you could have found at least one family that did not want to be caught up in the enclave. They might have like a further subdivision, a line painted around their house. And within that house a teenage son or daughter would have stormed upstairs and locked their door.'
The Rule Of The Land really is a magnificent book and must be a tourist board's dream. If more people looked at the things that divide us in the light of Garrett Carr, we would have a much better understanding of who we are and where we might go today.
Would I recommend this book to a friend?
Yes. There is something in here for everyone. Whether or not you come from Ireland, you will appreciate the essence of the journey. The constant stream of stories, facts, places and events makes this book a very interesting and lively read. Obviously, for those old enough or local enough to relate to the border, this will be an extra special read. At the very least, this book will make you want to get outside and explore your own surrounding with your own two feet and a reliable tent.
Afterthoughts
As an Irishman myself, I have never particularly spent much time thinking about the border. I am from the south of the island and so any thoughts or opinions that I may have have been heavily influenced by school history books and casual politics. The best thing about this book is that it make the border a much more acceptable place. It is what it is.
I received a copy of this book to review on Kindle and thoroughly enjoyed it. However, I did feel that I missed out on the maps and photographs so I would strongly recommend buying a hard copy if available. Garrett Carr drew his own map of the border as he walked the border. Clearly, he is a man of many talents!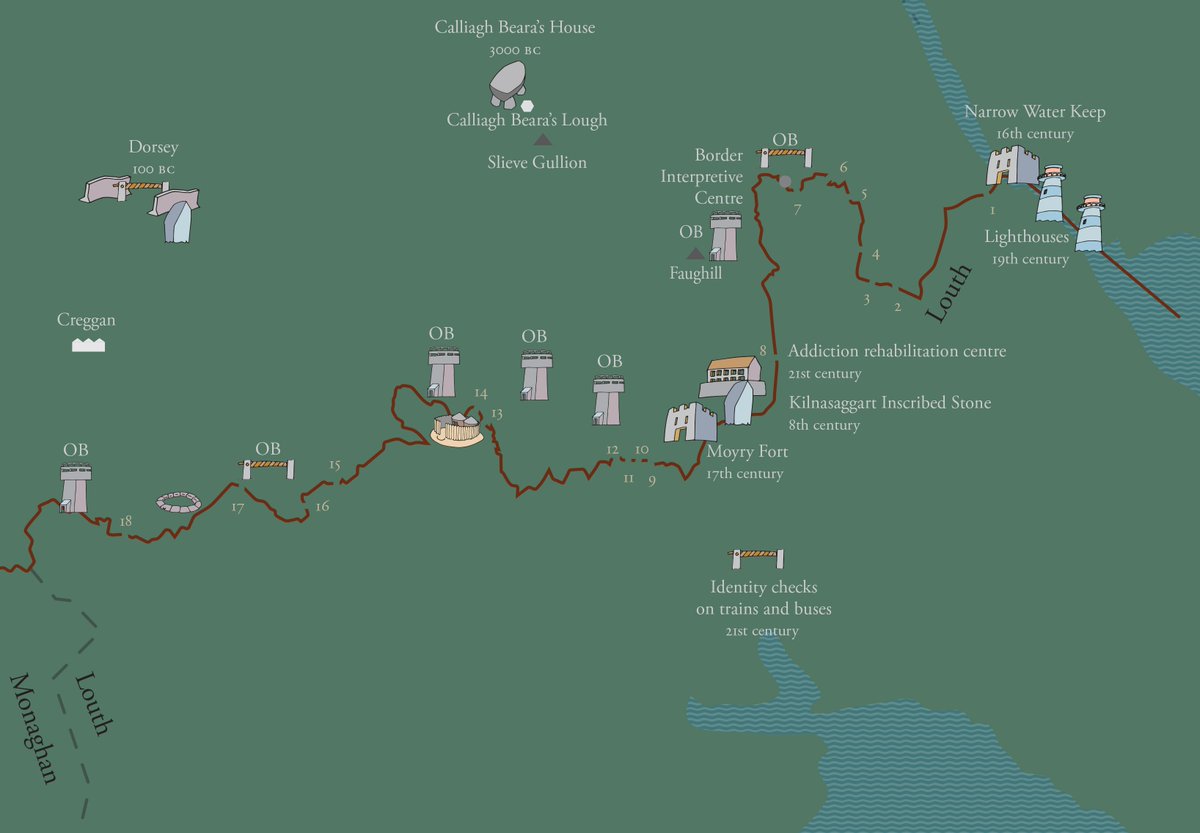 Reading this book should help us to understand that borders, boundaries and territories are a very natural and ingrained part of life on our planet. It is our attitudes towards them that define them for what they are and can be.
According to my Kindle, this book uses the word 'border' 438 times!
The language that Carr uses throughout this book is simply poetic. For example, a simple thing such as a dog and walker are described as 'a six-legged walk waiting to happen.'
For further reading, there is an interesting article about this book on the publisher's website https://www.faber.co.uk/blog/points-that-make-a-line-mapping-irelands-border-by-garrett-carr/
It is very interesting how the author mentions drawing a line as 'one way to make a state where we can belong.' This is exactly what the main character does in Paul Beatty's The Sellout to revive some pride in his ailing neighbourhood.