After pledging not to buy, borrow or accept another book until my new year reading pile settled down…I broke down and purchased Ryan Holiday's 'The Daily Stoic' today. I just couldn't resist. I love books like this. The problem is that now I have three excellent daily  books to read. Where do you find the time? At this rate I'll be getting up a 6am, reading late into the night, reading at work lunchtimes, etc. to squeeze them all in. Here are my favourite three page-a-day books and a loose plan of how I'm going to fit them into my daily schedule this year!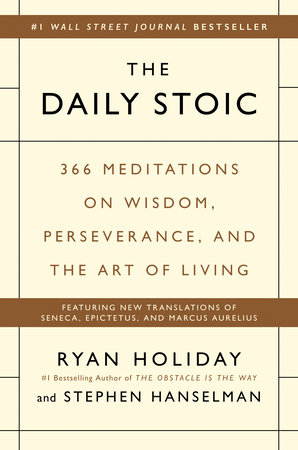 The Daily Stoic (Ryan Holiday)
This book claims to be the 'secret weapon of history's great figures' and is packed full of 'philosophy for doers.' Just a flick through the pages shows a wealth of quotes and knowledge from some of the greatest Greek philosophers up to and including Roman emperors such as Marcus Aurelius. Importantly, each day's entry is very short and easy to read so I think that this book will be my morning read.
365 Tao: Daily Meditations (Deng Ming-Dao)
This book is my go-to book for spiritual guidance and contemplation. It was Bruce Lee who pointed me in the direction of Taoist writings and I have not regretted getting this book at all. In fact, I have both several copies for family, friends and neighbours and all of them have loved it. This book demands some quiet time and reflection so even though I think that it is a great morning read over breakfast, I am going to have to bump it up to an afternoon read to unwind after the day's activities.
A Poem For Every Night Of The Year (Allie Esiri)
I love this book so much and it gives me my daily poetry buzz. It has a fantastic mix of poems and never fails to surprise me. Many of you are fed up listening to me go on about how great this book is so if you haven't heard about it already read my full review here and then go buy a copy! This book actually fits in very well with teaching so maybe I need to use it at work more, either for myself as a quick breather or as a full blown lesson plan. It's a win-win really!
How do you fit in your little daily ritual reads or activities? Do you get up earlier or completely unwind like clockwork in the evenings? I'd love to hear some tips and advice. Post a comment below.