I came across this challenge a couple of days ago on Cleopatra Loves Books book blog and I was curious to see if the books that I have read so far this year got me anywhere near a full house. After much investigation and a bit of juggling around I discovered that I had in fact ticked all of the boxes. I am pretty chuffed about this because one of the things that I try hard to do is not overdo any particular genre and become a clichéd reader! Here are the books that got me over the line:
A book more than 500 pages = The Bone Clocks (David Mitchell)
There is also a bit of sentimental value here with this book as it was the first book sent out to me by post to review. Big thanks to Maya with the socialbookco.com for that. Although this book is a hefty read, it is full of unforgettable characters and the great writing that comes with a David Mitchell novel.
A forgotten classic = Cannery Row (John Steinbeck)
I recently returned to Of Mice and Men after studying it in secondary school. This inspired me to read Steinbeck's two powerhouse classics; East of Eden and The Grapes of Wrath. It is fair to say that I am now a Steinbeck superfan. These two books should be on everyone's must reads list. That being said, Cannery Row does not get the credit that it deserves when compared to these two hard hitting novels. This is because it is much more light-hearted and fun in comparison. Even still, Steinbeck shows an uncanny knack of describing a community of people facing everyday challenges in a writing style that flows naturally off the page. He must have been a very observant people watcher!
A book that became a movie = A Monster Calls (Patrick Ness)
What a book! I recently came back to review this book because it deserves plaudits and awards for its heart-wrenching story of love and the fear of losing those closest to us. The film comes out on January 1st and I will be at the head of the queue. Read my full review here.
A book published this year = Days Without End (Sebastian Barry)
When this book landed on my desk to review, I knew that the life of a book blogger was for me! This is an incredible read that holds its own with any of the American Frontier classics that I have read before. I really hope that it does well because this is fiction as it should be. A non-stop thrill ride through a turbulent time in American history. Read my full review here.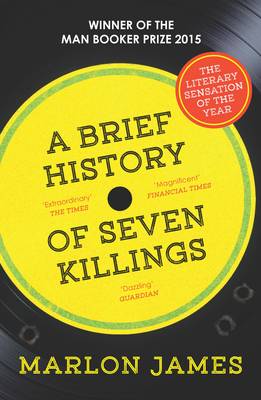 A book with a number in the title = A Brief History Of Seven Killings (Marlon James)
A tough and challenging read that rewarded me with an unforgettable experience. From the start, this book gave a graphic and hard-hitting account of ghetto life in Kingston. The use of pathos in dialogue gave the book an authentic feel and the story tied well with the real life assassination attempt on Bob Marley in 1976.
A book written by someone under the age of thirty = The Wolf Wilder (Katherine Rundell)
A Monster Calls reintroduced me to books with great illustrations and this is what drew me to The Wolf Wilder. It had also caught my eye in Waterstones as a book to look out for. When I saw it in the library I picked it out as my 'easy' read of the month. Rundell spins a great yarn about family, love and wolves in Russia. It was like The Revenant for kids and brought me back to my childhood White Fang and Call of the Wild days.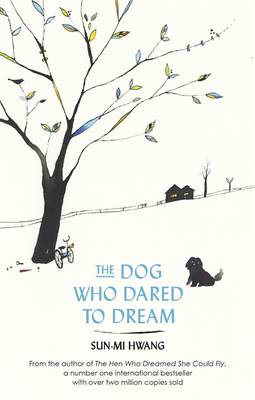 A book with non-human characters = The Dog Who Dared to Dream (Sum-Mi Hwang)
A simple tale about Scraggly the dog and his life. I picked this one up in the local library and easily read it over the weekend. It offers some pearls of wisdom about life but does so in a gentle manner without ever forcing life lessons down the readers throat. Read my full review here.
A funny book = Undermajordomo Minor (Patrick DeWitt)
A truly laugh out loud hilarious book. I read this one on holidays by the pool and thoroughly enjoyed it  from start to finish. His previous book, The Sisters Brothers, was also quite quirky but this one took the biscuit. I haven't laughed so hard since I read Graeme Simsion's The Rosie Project.
A book by a female author = About Sisterland (Martina Devlin)
An unusual book set the in a not too distant future where women rule the world and men are their subordinates. Like any social system where a hierarchy is concerned, this does not end well. This was my second Martina Devlin book after really enjoying The House Where It Happened.
A book with a mystery = The Nightwalker (Sebastian Fitzek)
This has to be the most confusing and disorientating book that I have read in a long time. It has a element of Vanilla Sky and Inception to it as the reader gets dragged into a story of a  sleepwalking man who's partner goes missing. Even when I finished the book, I still didn't know what to believe. The whole book is a mystery! My previous read of this author, The Child, was exceptional and is also worth checking out.
A book with a one word title = Camille (Pierre LeMaitre)
The third and final book of the Detective Verhoeven series. While not as strong as Irene and Alex, this book does bring the series to a suitable conclusion which is more than can be said about other neverending detective series. Reading this, one could only feel that the lead detective must be the unluckiest man alive!
A book of short stories = Town and country: New Irish Short Stories (edited by Kevin Barry)
I am a massive Kevin Barry follower and now that I have read all of his available material, I am searching for anything at all that he is linked to. This selection of short stories did not disappoint and the editor did a great job of including something for everyone. When you read something like this you become very aware of the incredible amount of writing talent out there.
A book set on a different continent = The Narrow Road to the Deep North (Richard Flanagan)
Another Man Booker award winner that did not fail to disappoint. The story follows the life of an Australia doctor from youth to life as a POW in WW2 and his subsequent family life after. The POW scenes in particular were amazing to read.
A  book of non-fiction = Witches, spies and stockholm syndrome (Finbar Dwyer)
Where better to pick up a book about the middle ages than in the medieval city of Kilkenny. The blurb almost challenged me to read it as it rightly highlighted the lack of knowledge out there when it comes to medieval life in Ireland. As a nation, we do tend to skip from Brian Boru right up to Famine times. The author does a great job of writing and interesting and informative book here in a light tone that will engage even the most reluctant history reader.
The first book by a favourite author = Irene (Pierre LeMaitre)
Annoyingly, the second book of this trilogy, Alex, was translated and published in English first. So when I began to read Irene, I already knew what the ultimate outcome would be. It shows the extraordinary strength of this crime thriller that it still kept me on my toes to the very end. The serial killer concept here is really cool. 'The Novelist' kills his victims by recreating murder scenes from famous books.
A book that you heard about online = The Man in the High Castle (Philip K. Dick)
This book came to life as an Amazon TV series in recent months and this is what grabbed my attention. Although I am yet to watch the aforementioned TV series, I can recommend the book as an interesting and alternative read. The basic premise is built upon the fantasy that the Allies have lost the war and now reside under the stewardship of their Japanese and German conquerors. The book describes life in America in this parallel universe and also features a novel within a novel as all of the characters talk of The Grasshopper Lies Heavy written by a mysterious 'man in a high castle.'
A best-selling book = His Bloody Project (Graeme Macrae Burnet)
This book rose to prominence for its inclusion on the Man Booker shortlist. Although is did not win the prize, it greatly outsold its rivals in the run up to the announcement and was critically acclaimed as excellent novel of historical fiction. One of the best books of the year. Read my glowing review here.
A book based on a true story = The Revenant (Michael Punke)
I absolutely lover the Oscar winning movie that brought this novel to my attention. Normally I do it the other way around, but this time I watched the film first and then read the book. This definitely added to my experience of both and I was pleasantly surprised to find many differences between both.
A book at the bottom of your to be read pile = The Heart Goes Last (Margaret Atwood)
I have a strong intuition that I will love her work and I have a copy of this sitting on my bedside locker for months now, but I don't seem to be able to get around to it! I have also passed up the chance to read Hagseed several times because I know that when I do take the plunge with one of Ms. Atwood's books, I want to give her my undivided attention!
A book that your friend loves = All The Light That We Cannot See (Anthony Doerr)
A friend gave me this to kick off my reading in 2016 and I loved it. A powerful tale set in wartime France, it tells the story from two angles. Marie-Laure is a blind girl who grew up surrounded by love in Paris and Werner Pfennig is a German boy brought up in an orphanage. Their two stories collide in an entertaining tales of survival during the German occupation of France.
A book that scares you = Slade House (David Mitchell)
This book was my introduction to the very talented David Mitchell. I must admit that I did judge this book by its beautiful cover initially, but the writing within blew me away. It is a very simple story with a repetitive style that lends to the terrifying atmosphere and tension throughout. It is always worse when you know that a character is walking into trouble.
A book that is more than ten years old = Door into the dark (Seamus Heaney)
One of Seamus Heaney's earlier poetry collections has many gems hidden within. I happened to spot this one on the shelf in my local library and I found it very hard to give it back. A great collection of poems and one that I would strongly recommend.
The second book in a series = Sweet Thursday (John Steinbeck)
I was surprised to learn of a sequel to Cannery Row after enjoying it earlier in the year. Admittedly, it was always going to be tough to follow up a first book that had a relaxed and natural style with a more exciting book also written in the same relaxed and natural style. This book still has its moments though with many of the same beloved characters and a couple of new additions.
A book with a blue cover = An Officer and A Spy (Robert Harris)
This book was strongly recommended to me by a friend and I earmarked it as my big summer read. It did not disappoint. The fact that it was based on true events added even more to the story and it went down very well with friends when I passed on the recommendation.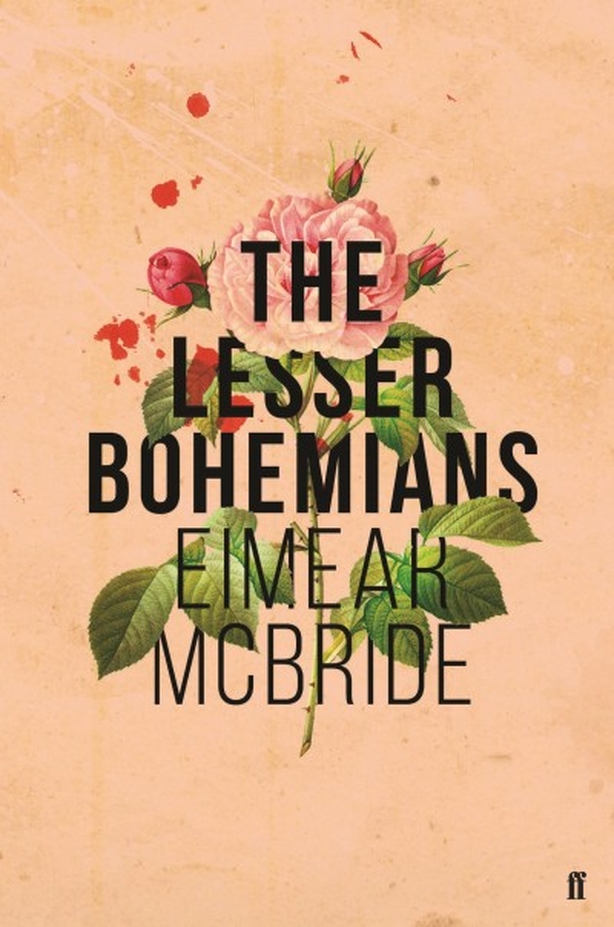 FREE SPACE = The Lesser Bohemian (Eimear McBride)
Another amazing book that I got for free in exchange for an honest opinion. I cannot speak highly enough of this book. It takes all the originality of A Girl Is A Half Formed Thing and combines it with a powerful story set within the drama scene of London. One of the character's monologues in the middle of the book is one of the best passages that I have ever read. Read my very honest review here.